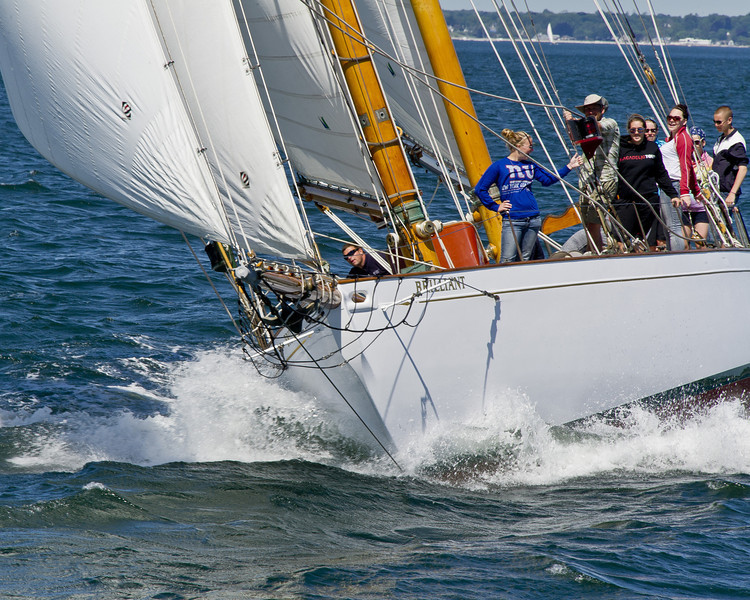 Find yourself at Brilliant's helm
Take the helm, raise the sails, cook in the galley, swab the decks… It's all part of the Brilliant sailing programs.
Brilliant is an offshore classroom for Mystic Seaport's education programs. Her sailing program offers people of all ages the opportunity to learn about sailing on one of the finest wooden schooners ever built. Since 1953, Brilliant has sailed the equivalent of five times around the earth, with more than 11,000 students setting her sails and steering her course.
Brilliant's excellent condition is a testament to the designers and skilled craftsmen who built her to the highest standards at the Nevins yard in 1932, and to the careful maintenance she has received ever since. Originally built for offshore cruising, Brilliant has proven herself in many races and is the platform for the nation's oldest sail education program.
Brilliant is owned and operated by Mystic Seaport Museum and inspected by the United States Coast Guard. Though traditional in operation and construction, Brilliant carries modern navigation and safety equipment. She has been described by WoodenBoat Magazine as one of the 100 most beautiful classic boats in existence and as "one of the best maintained and sailed classic yachts in the country — if not the world."
Brilliant's History
On April 23, 1932 the schooner Brilliant was launched from the yard of Henry B. Nevins at City Island, New York. She was built for Walter Barnum, and at his request the construction details were of the highest standard for a possible voyage around the world. Soon after being launched, she entered the 1932 Bermuda Race and though she lost her Genoa jib on the first night out, she was not far behind when the Highland Light broke the existing course record.
In 1933, Brilliant set a record in elapsed time for vessels of her size when she ran from Nantucket Lightship to Bishop Rock Light, England, in 15 days, 1 hour and 23 minutes.
In 1936, one of the hardest Bermuda Races was run. In a heart-breaking finish, Brilliant was becalmed almost at the finish line, and the crew helplessly watched the Vamarie catch a breeze, come up from astern, and cross the finish line several minutes ahead. Brilliant was thus second over the line. Kirawan, a smaller craft, won on corrected time.
Henry E. Bodman of Detroit, Michigan, purchased Brilliant in 1940 and took her out to the Great Lakes. There she cruised until William W. Spivy bought her in 1942. Mr. Spivy donated her to the United States Coast Guard for antisubmarine patrol work. In this service she operated out of St. Simon's Island, Georgia, evidently spotting at least one submarine.
At the end of World War II, Brilliant, along with other yachts that had been pressed into service, was auctioned off. She was purchased by Briggs Cunningham in 1945. Mr. Cunningham rerigged her with taller masts and increased sail area with the intention of giving her more speed in light winds. After a poor showing in the 1946 Bermuda Race, she stayed more or less in Long Island Sound.
In 1953, Mr. Cunningham generously donated Brilliant to Mystic Seaport Museum to teach young people the art of seamanship. Through program earnings and continued donations by friends of Brilliant, this fine schooner has been maintained to a high standard and is admired wherever she goes.
During the summer of 2000, Brilliant raced with Tall Ships 2000 from Boston to Halifax and won First in Class and third in a fleet of more than 40 vessels. She went on to win the race from Halifax to Amsterdam, First in Class and First in Fleet. In October 2000, the American Sail Training Association voted Brilliant's Captain George Moffett "Sail Trainer of the Year." Brilliant was named "Sail Training Vessel of the Year" in 1997. She has won the famous Nantucket Opera House Cup twice, in 1986 and 1997, and has won many other classic boat races over the past 50 years.
In 2007 Brilliant had her original teak deck replaced after almost 75 years of wear. This was the first major structural project completed on the vessel since she was rerigged in 1945.
Since 1953, Brilliant has sailed the equivalent in nautical miles of five times around the earth with more than 10,000 students setting her sails and steering her course. Caring for this significant vessel and keeping maritime skills alive help Mystic Seaport Museum fulfill its mission as the Museum of America and the Sea.